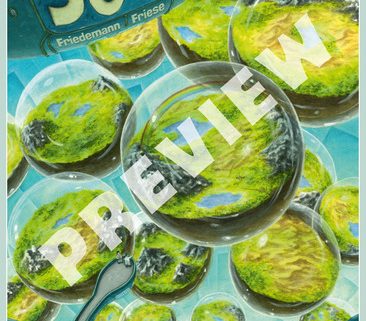 Friedemann Friese is either totally whackadoodle or an absolute genius!!  Earlier this week, Eric Martin from BoardGameGeek.com revealed the concept for Friedmann Friese new game called 504.  Scheduled to release in October 2015 at Spiel (Essen), 504 boasts 504 games in ONE BOX.  Yes, you read that right…. 504 games in ONE BOX!
Here is Friese overview of 504:
504 is a game that creates 504 different games out of one box. The game consists of nine modules: Wargame, Pick-up & Deliver, Production, Streets, Exploration, Racing, Majority, Add-Ons, and Stocks.

In each single game, you take three different modules from the nine available and assemble them in any order you like to create a new game.

• This can be a Wargame with an economy based on Pick-up & Deliver with bonus scoring from Majorities.
• This can be a Racing game on a board that starts small and grows through Exploration together with some tech-cards to be acquired as Add-Ons for better racing or exploration.
• This can be an 18XX-style stock game — the player colors are companies with stocks — with network building (Streets) for the income and building Production sites to produce the workers for the street building.

Each single game takes from 30 to 120 minutes to play.
Friese has been known to put out some very interesting games, including Power Grid, Copy Cat and Friday. Call me both curious and skeptical!
https://brawlingbrothers.com/wp-content/uploads/2015/04/pic2473616_md.jpg
500
366
Brandon Nall
/wp-content/uploads/2015/04/logo-small.png
Brandon Nall
2015-04-07 00:22:45
2015-04-07 00:23:03
504 Games in One Box?!