Check Us Out in "Boards Alive Podcast Monster Mash-Up – Episode 1"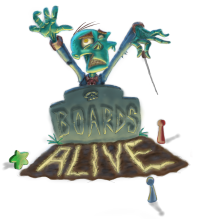 We contributed to the inaugural episode of "The Boards Alive Podcast Monster Mash-Up" and you gotta check it out!  Josh and I discuss gaming food & drink and make fun of our Canadian Comrades!  Here are the details:
Direct Download or Media Player or RSS Feed
In the first episode of this new show, we have some GenCant floor interviews, the Brawling Brothers Board Gaming Podcast Bad Ass Bohnanza, some Linsae Reviews segments, a comedic segment from Nick Mariner, Odd Thoughts with Quinten, a Tabletop Tall Tale, tips on Surviving Solo with Jacob Coon, and our Games of the Month.
This episode is sponsored by Crash Games & Quiche Games
Billy Williams: Man on the Street – GenCant Floor Interviews – 2:03
Brawling Brothers Board Gaming Podcast Bad Ass Bohnanza – 13:18
Linsae Reviews: Village – 32:10
Nick Mariner – 33:05
Crash Games Sponsorship: Council of Verona 2nd Edition – 42:11
Linsae Reviews: Cards Against Humanity – 43:33
Odd Thoughts with Quinten – 44:04
Tabletop Tall Tales: Castes of Mad King Ludwig – 51:24
Surviving Solo with Jacob Coon – 57:32
Linsae Reviews: Pathfinder the Adventure Card Game: Skulls & Shackles – 1:06:06
Game of the Month – 1:06:37
https://brawlingbrothers.com/wp-content/uploads/2015/07/cropped-boards-alive-tombstone-logo-zoom-in2.png
639
903
Brandon Nall
/wp-content/uploads/2015/04/logo-small.png
Brandon Nall
2015-07-30 10:31:19
2015-07-30 10:40:11
Check Us Out in "Boards Alive Podcast Monster Mash-Up – Episode 1"