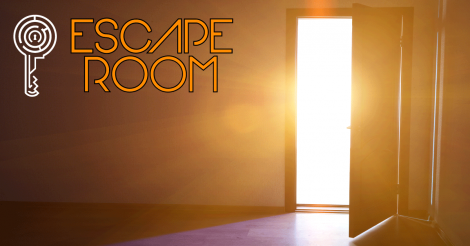 ESCAPE ROOM New Mexico's First and ONLY Escape Room!
NM Escape Room, New Mexico's first and only escape room
, is proud to announce that their Grand Opening will be held on June 20th, 2015 in Albuquerque, New Mexico!
You may be asking yourself "What is an Escape Room?" Hopefully we can give you all the right clues to figure it out! NM Escape Room is a local, family, and woman-owned small business that will be bringing a new level of excitement to Albuquerque, NM!
Like other escape rooms across the nation, NM Escape Room is an entertainment venue that offers a 60 minute experience for groups of two to eight (2-8). The objective is simple: work together, find clues, decode messages, and solve puzzles to unlock the door to freedom. If you can complete the pre-determined requirements in the allotted time of sixty (60) minutes you achieve success! If you do not complete all of the requirements, or if you do not finish in the sixty (60) minute window, you are let out of the room and you are unsuccessful in your escape attempt.
The initial experience is called "The Blood Map" and is set in a Victorian-themed room that takes place in the Wild West. The brief synopsis that follows can also be found on the official website www.NMEscapeRoom.com.
If you've never played a live escape scenario experience before, this Victorian themed room is the place to start!
The Blood Map Synopsis: Bob Ford, the man charged with the murder of Jesse James, has found Jesse James' map to some hidden treasure. Before Ford could find the treasure, he was murdered and the map was never seen again. Rumor has it that the map is hidden somewhere inside Ford's home office; however, the building is set to be demolished. You must find the treasure map before the building is destroyed. There is only a small window of time (1 hour) to see it through. Unfortunately, you don't know the whole plan, but luckily there were clues left for you to find. You will just have to figure it out. Do you have what it takes to find the map before time runs out?
NM Escape Room is opening their first location at 3916 Carlisle Blvd. NE Suite C, Albuquerque, NM 87107 located on Carlisle, just North of Comanche. The primary location will open its doors with one themed room, but there are plans to expand the location to include three, separate themed rooms.
The fun begins the week of June 8th through June 11th, and continues through the week of June 15th through June 19th, during the soft-launch weeks leading up to the Grand Opening weekend (Saturday June 20th, 2015). The second soft launch week is open to all those in the media and VIP guests. If you are interested in attending during this week (Primary Days for VIPs and Media: Tuesday June 16th through Friday June 19th), please contact Sky Carlisle, Marketing & Media Director at 505-453-1323, or sky@carlislemediaconsulting.com to schedule your time.
The first days open to the public will take place on Saturday June 6th and Sunday June 7th. Information on booking can be found at www.nmescaperoom.com/book-now.
The official Grand Opening will take place on Saturday June 20th, 2015 at the location listed. During the hours of 11am-3pm we will have a citywide scavenger hunt that challenges teams from all over the City of Albuquerque to solve puzzles, put the clues together and get back to the NM Escape Room location. In addition, on June 20th we will have our official ribbon-cutting ceremony and be providing tours to city officials, media, VIPs, and our friends in the chambers and other local support systems that have helped launch such an incredible entertainment venue.  More details to come in the following days.
https://brawlingbrothers.com/wp-content/uploads/2015/06/safe_image.png
246
470
Brandon Nall
/wp-content/uploads/2015/04/logo-small.png
Brandon Nall
2015-06-09 13:00:16
2019-07-09 16:32:34
ESCAPE ROOM New Mexico's First and ONLY Escape Room!