Eyes unclouded by… A Hate Board Game Review
How serious should we as a gaming audience take the stories told in our games?  If we demand that our games tell stories, are we obligated to reflect upon them critically?  If nothing else, my review of Hate has given me pause to reflect on these questions.
"You must see with eyes unclouded by hate. See the good in that which is evil, and the evil in that which is good. Pledge yourself to neither side, but vow instead to preserve the balance that exists between the two."

-Hayao Miyazaki
If you haven't read Adrian Smith's graphic novel, The Chronicles of Hate, it may come as a surprise to learn that it shares more then a few passing similarities to Hayao Miyazaki's classic film, Princess Mononoke.  Both tales offer a version of the Hero's Journey where the protagonist is tasked with restoring balance to the world by breaking the cycles of violence (both against people and nature itself) that threatens to destroy the world and result in the further corruption and degeneration of humanity.  What really sets The Chronicles of Hate apart from Princess Mononoke though is setting.  Rather than enjoying the beauty of bucolic feudal Japan, The Chronicle of Hate assaults the senses with a brutal post apocalyptic waste that would give Max Rockatansky pause.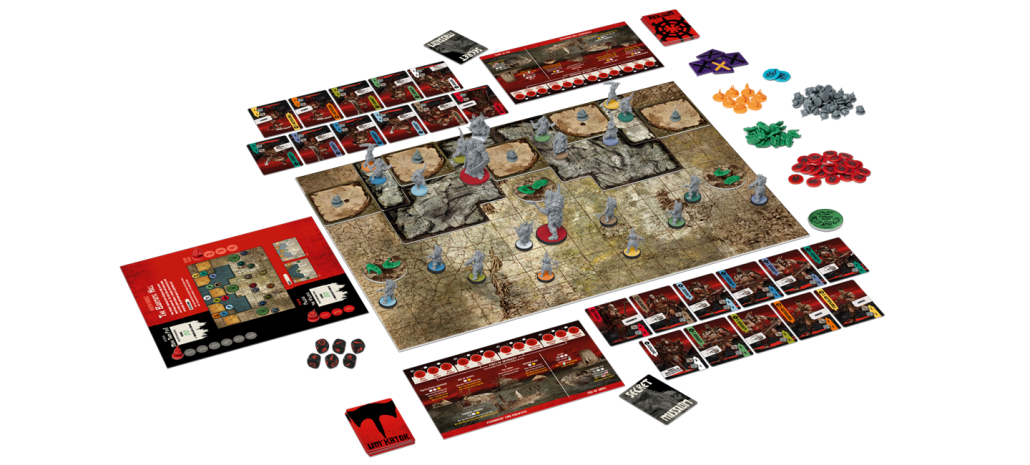 The Chronicles of Hate is a not so subtle and hardly unique cautionary tale about why it is important for humanity to seek balance with our environment rather than selfish and shortsighted domination.  One might be forgiven if they miss this point though because its easy to loose the message with the audience being overwhelmed with how horrible the world of Hate is.  But then again, that is kind of the point, isn't it.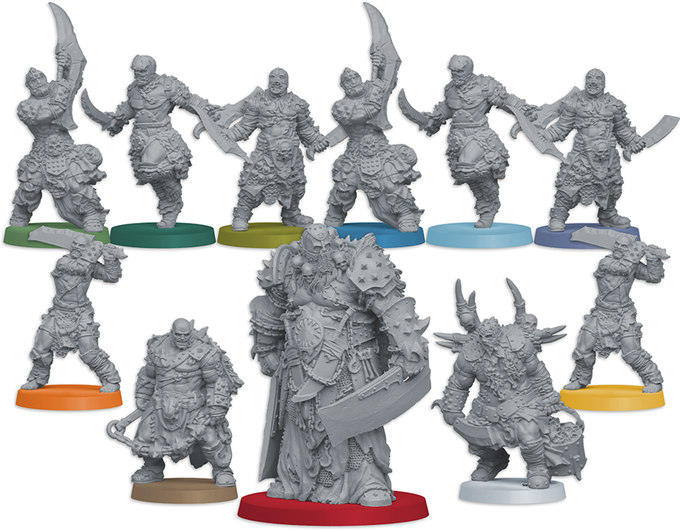 The only things that Hate the board game inherits from the graphic novel is the over the top art of Adrian Smith, the setting, and the lingering focus that both the graphic novel and the game have on acts of extreme violence.  Make no mistake about it, Hate the board game is an ultra violent power fantasy of plastic figure on plastic figure degeneracy.  Honestly, its kind of weird territory to tread (for a board game or otherwise).  Adrian Smith's message requires that he fix your gaze on very terrible things.  I kind of get what he is trying to do as an artist, and I would argue it is something more than drawing gratuitous if not cool looking pictures.  Does the board game need to rub our nose in the fact that I can capture innocent people and eat them for VP?  I suppose that one might interpret Hate the board game as an ironic critique of violence in board games by pointing out how very sanitized violence is depicted in most games.  At the same time though, I can't help but wonder if that was ever given any thought by the development team.  Maybe they just wanted to make a cool tactical skirmish game.  There is a very real sense that this is a game that can be enjoyed on a very superficial level without ever giving careful thought to the narrative.  I haven't quite figured out if that is something I should feel uncomfortable about.
Hate at its core is a tactical skirmish minis game with a hand full of variable scenarios meant to be played out over a campaign.  There are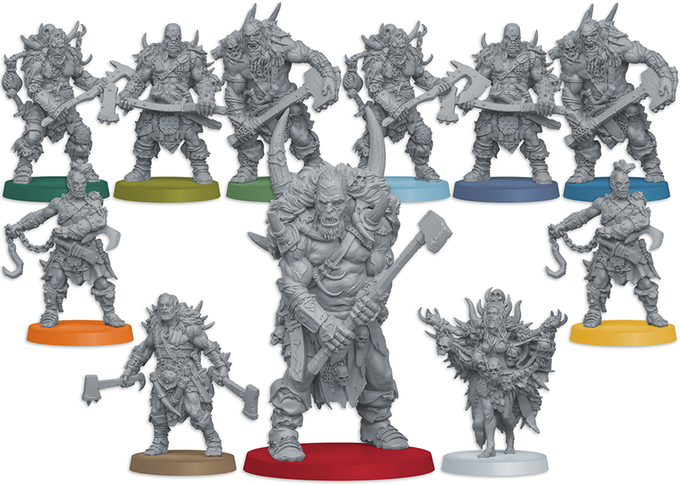 plenty of skirmish minis games on the market these days, my personal favorite being the best argument that Games Workshop needs to hire a technical writer, Warhammer Underworlds.  The current trend in these types of games has been to make them play smoother and quicker (which is a design choice that is on display in Hate).  Something we haven't seen (outside of some fan made content for X-Wing) is meaningful campaign play.  The greatest design achievement in Hate, to me, is this intriguing campaign system.  Most campaigns of Hate are going to run 4 or 5 "clashes" where each "clash" consists of you playing an opponent twice.  Each individual game represents a fight for a chunk of territory on the campaign's world map.  The core set of Hate gives you just enough stuff so that you can have 4 players playing campaign matches at the same time.  Each pair of matches runs just long enough that if you run a 4 player campaign and you are probably looking at playing through the entire campaign in a matter of 2 long game days or 4 shorter game nights.  The best comparison I could give would be to say that the campaign feels a lot like playing in a (insert ccg game of choice) sealed deck league where players gradually open packs of cards that strengthen their decks.  Another apt comparison would be the full game of The Colonists, which is really just a campaign of 4 back to back worker placement games.  Hate dolls out upgrades and bonuses by the fist full, and by the final round of the campaign, your tribe should be radically more powerful then where you started.  This sense of reward, progression, and empowerment has long been a calling card of Eric Lang's design style, and despite only being a member of the production team and not the designer of the game, Hate just FEELS like an Eric Lang game.
To my point, I would draw your attention to the dice.  Rolling the dice present interesting decision spaces.  You have the normal questions like dice mitigation, but you also have this interesting die face for Savagery.  Savagery is the name given to action points in Hate.  You spend them to take actions.  Veterans of Blood Rage would know this resource as Rage.  Veterans of Blood Rage would also understand how critical it is to have as much Rage as possible so that you can take as many actions as you want.  Because you can generate Savagery on your dice rolls, there is a very real incentive to roll the dice as much as you can, and there are interesting points in the game where you will gladly allow your fighters to die in exchange for an extra point or two of Savagery.  I adore being given choices in combat where I can further some agenda I have aside from simply winning the fight.  Once again, Blood Rage fans (and especially Rising Sun fans) will recognize this feature.  With action points (savagery) being tied to the dice like they are, it opens up an interesting set of strategic choices for players that you don't see in typical "dumb" dice chuckers.  Sloppy management of your action points and your dice rolling may give your opponent a very real advantage.  If you opponent is able to end the round by activating all of their figures when you have only activated half of yours, your opponent has a very real advantage going into the next round.  Further complicating your strategic choices are the various factions, some of which encourage you to play more aggressively or defensively.  My point is this:  Hate, despite its reputation, is far from a dumb, simple dice throwing contest.  Much like Warhammer Underworlds, the real meat of Hate lies in figuring out all the clever tricks and strategies that its wickedly clever dice/savagery system offers.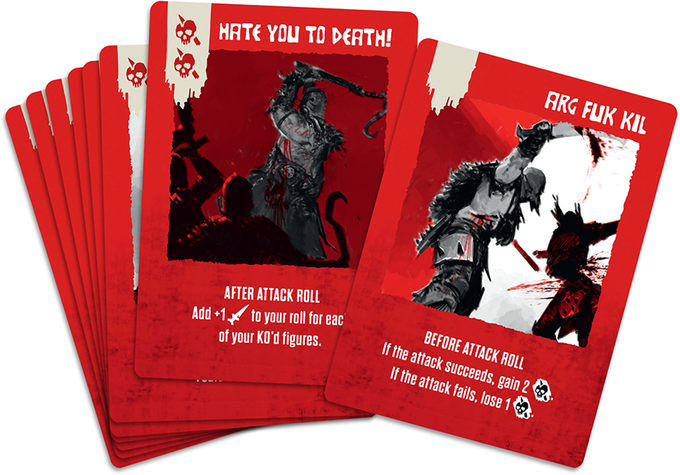 There is an issue that I have with the campaign system.  It doesn't handle odd numbers of players well (in fact I think the sweet spot for this game is 2 or 4 players).  If I only have 3 players in my campaign, players 1 and 2 will play in their first clash while I sit out.  Then I get to play one of the other two players in my first clash.  The problem is that the player I face will have already developed their tribe through an entire clash.  Meaning, they will have all sorts of character upgrades and improvements on their tribe board, which means I will be at a significant disadvantage going into my first game.  This lack of balance plays itself out throughout the campaign because you are stuck running games with players who have variable numbers of games under their belt.  The Hate campaign just feels better running with an even number of players, even if somebody has to play 2 tribes.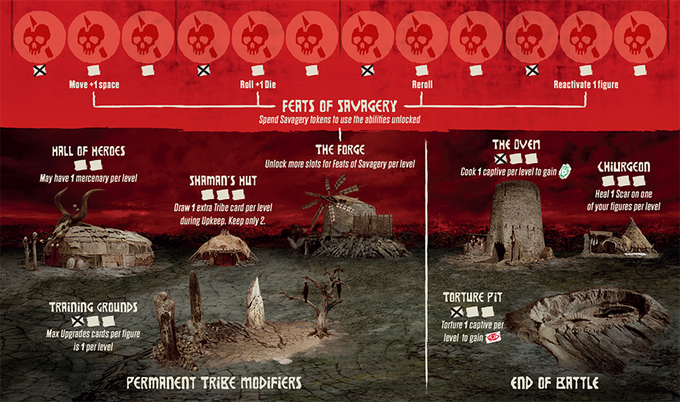 So who exactly is Hate's ideal audience?  To my way of thinking, its a gamer who really enjoys Eric Lang's other blockbuster titles like Blood Rage, AND also happens to enjoy tactical skirmish minis games like Warhammer Underworlds.  Hate's deceptively simple combat at the outset masks the depth of choices it offers to those willing to give it a proper try.  It would be a mistake to judge Hate without going through an entire campaign.  One off battles don't properly show off everything that the game engine in Hate is capable of.  Working your way through the campaign makes for a often rewarding experience as the power creep of the game ramps up towards the final battle.  By the end you'll be capable of all sorts of nifty feats and combos.
Going back to my earlier comments about the setting and narrative of Hate, I think some folks will find this to also be a barrier of entry.  While this is hardly the first game from CMON to have toed the line of good taste (their kickstarter promotions for Hate obviously crossed said line), Hate makes no apologies about what it is.  Buyer beware, this is an adult product with adult subject matter that SHOULD be somewhat disconcerting and upsetting.  That was kind of the point of the Adrian Smith source material after all. This isn't a family game for everyone, although I think that with some careful curation/redaction/discussion of content you could probably play this with mature kids and teens. If you are thinking  about getting  this to play with younger gamers, you should definitely do your parenting homework ahead of time to decide if this is a good fit for your family.  Yes, there is some nudity, but it is easily left out if that sort of thing is a problem.  Most of the nudity feels appropriate to the setting, although there are 2 or 3 figures that feel unnecessarily sexualized/objectified (and no, I'm not talking about The Mother, who I would interpret as being idealized without being objectified – her nudity represents a lack of corruption and contamination, a primal or natural purity/sanctity).  The couple of miss-steps are taken directly from the source material, so this is more of a eye roll at Adrian Smith then it is at CMON.  Aside from those few miss-steps, the depiction of women  as people (be it monstrous people) rather than sexual objects in Hate is a bit of an improvement over some of CMON's previous titles.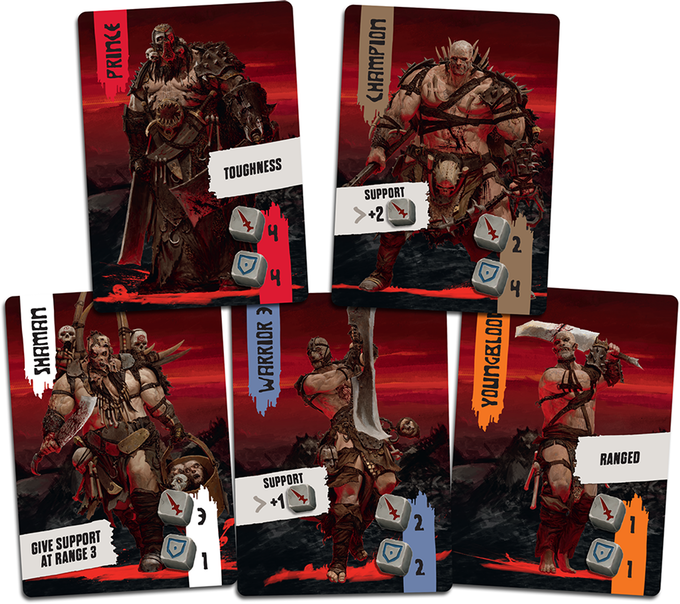 Hate as a gaming experience is polished and often exciting, but it never strikes me as a completely revolutionary or necessary design either.  We've seen many of the campaign elements like the upgrade and scar overlays before in other games.  Lord knows there are plenty of skirmish minis games overflowing from the shelves at your FLGS.  What makes Hate stand out for me is how undeniably Eric Lang-ey this game feels.  The subtle, but devilishly clever use of dice.  The power creep of the evolving tribe board and combo-tastic cards.  The wealth of positive feedback loops.  Oh yeah, and the absurdly cool looking minis.  On the other hand, you can't ignore the somewhat problematic use of its setting and narrative.  Hate fully embrace's the art of Adrian Smith's creation but completely misses out on the thematic heart of the story he weaves.  What the audience is left with is a leering and unwavering ballet of blood, viscera, and bone that feels more in the vein of Ed Gein than Immortan Joe.  Its all quite intoxicating and unseemly at the same time.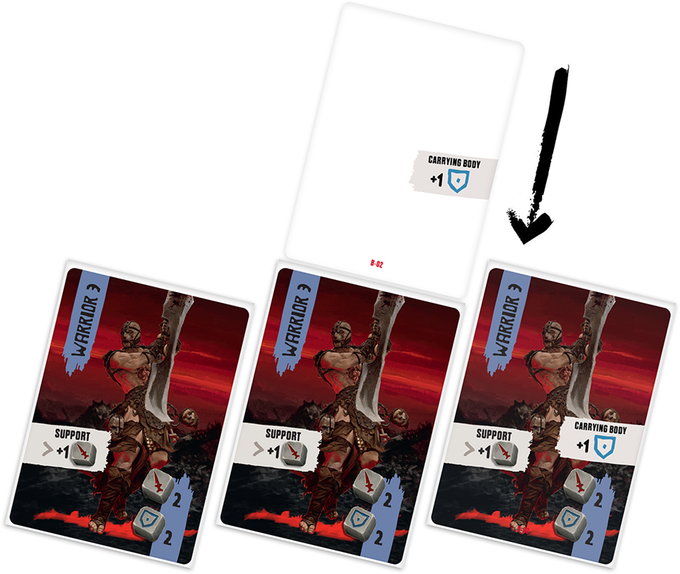 Maybe I'm taking board games as a story telling device too far.  Maybe I'm taking the narrative of games like Hate too seriously.  But if gamers are serious when they cry for games that tell good stories, I think we owe it to ourselves to carefully consider the stories they tell.
Degenerate though it may be, I can't help but enjoy my time with Hate, and I'm not sure what that says about me.  There are just so many satisfying moments that Hate rewards you with as you grow your tribe over the course of a campaign.  Games like Blood Rage and Rising Sun give you 90 minute glimpses of this delicious evolution, while Hate can stretch that glorious march over the course of 5 separate game sessions.  If you aren't completely put off by the setting of Hate, there is a very real gaming treat to be found here.  Does loving Hate make me a bad person?  That brings me back to the quote I began this review with:
"You must see with eyes unclouded by hate. See the good in that which is evil, and the evil in that which is good. Pledge yourself to neither side, but vow instead to preserve the balance that exists between the two."
Perhaps that is the answer.  Perhaps.
Scott Sexton
Reviewer
Brawling Brothers Boardgaming Podcast