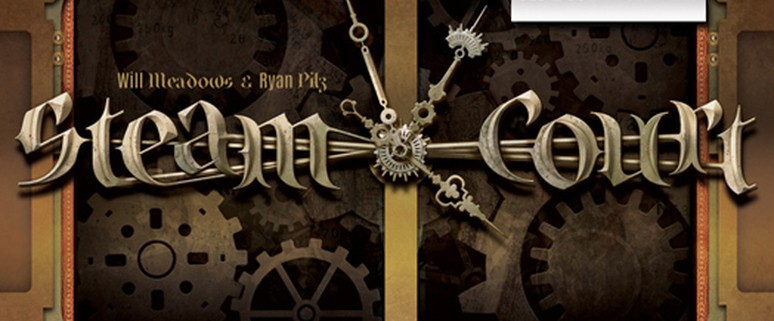 Steam Court : GRAB YOUR WRENCH, BECOME A COURT ENGINEER
Tantrum House, a Greenville-based board game company, launched a Kickstarter campaign for its game Steam Court on May 28. For a pledge of  $25, backers will receive a copy of the game and any unlocked stretch goals.
Steam Court is a card game for 3-10 players that takes 60-90 minutes to play. The basic gameplay is similar to the trick-taking game President, or Scum. But Steam Court goes beyond the basics and adds special cards and different character powers for each player. The mixture of familiar gameplay and added strategy puts Steam Court in the "gateway" game category. It's accessible to casual gamers, but also deep enough for gamers who prefer more strategy. "We've found that it works really well as a party game too" says the game's designer, Will Meadows.  "It's easy to teach, and it's flexible enough that if players want to drop in or out half way through it doesn't mess up the game's flow."
In Steam Court, players take on the role of Court Engineers who attempt to catch the eye of the Queen and other high-ranking courtiers by displaying their mechanical prowess. Using their dealt hands of gear cards, players try to take tricks with the ultimate goal of being the first to play all their cards. The Queen rewards such displays of skill by snatching up the most successful engineer as her own — and awarding that player the most victory points. Each Quarter, players switch characters depending on the order they went out. The player who amasses the most points by the end of the fourth Quarter wins. For a more casual game, Steam Court has a simpler, non-victory point variant.
Tantrum House is a company run by board game lovers, critiquers, and designers. In addition to designing Steam Court, Tantrum House publishes high quality, but very concise video reviews of board games on their YouTube channel. They host monthly game nights at a local coffee shop, design custom tabletop themed apparel, and have ideas for a number of new board games that they would like to bring to market in the future.
https://brawlingbrothers.com/wp-content/uploads/2015/06/4362865.jpg
434
774
Brandon Nall
/wp-content/uploads/2015/04/logo-small.png
Brandon Nall
2015-06-01 13:54:46
2019-07-09 16:32:34
Steam Court : GRAB YOUR WRENCH, BECOME A COURT ENGINEER