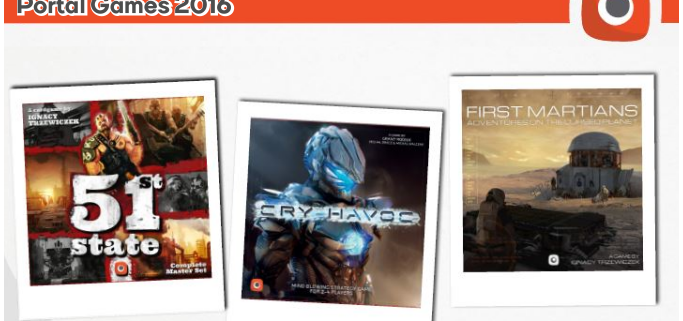 During a keynote speech at PortalCon 7 on January 23rd, CEO Ignacy Trzewiczek reveals three new titles for Portal Games in 2016.
Gliwice, Poland – January 25, 2016. This past weekend, CEO Ignacy Trzewiczek announced three new titles coming from Portal Games in 2016: 51st State: Master Set, Cry Havoc, and First Martians: Adventures on the Red Planet. It was also hinted that there will be a fourth title announced at GAMA trade show in March.
51st State: Master Set marks the rebirth of the 51st State line. This set includes 88 cards from the base game, and 50 cards each from both the New Era and Winter expansions. The whole set has been re-balanced to offer a cohesive experience no matter which expansion you choose to use. With all new layout, and some new artwork, 51st State Master Set is sure to please.
Cry Havoc, from designers Grant Rodiek, Michał Oracz, and Michał Walczak is a carddriven, area control, wargame set in a brutal sci-fi world that plays in 90 minutes or less. As with the majority of our games, the players will be in command of one of 4 unique factions with varying abilities and units. The game will include 54 custom miniatures, a large format board, and over 100 unique cards, all with stunning new artwork.
First Martians: Adventures on the Red Planet, from designer Ignacy Trzewiczek, uses the core mechanics of the award-winning Robinson Crusoe: Adventures on the Cursed Island and places the players on the inhospitable Martian surface. The immersion experience is further enhanced with an integrated App that will maintain the balance and challenge throughout. Players have the option of taking on a custom Campaign Mode, where each successive game builds on the last, or even an Open World mode where they are free to roam about the Martian surface and explore for as long as they can survive.
"We are very excited about our 2016 line up. With four amazing games and dozens of expansions for games released in previous years, we have no doubt that this year will be the best in the history of the company. With new edition of award winning 51st State, with big strategy game called Cry Havoc, and with revolutionary First Martians, we cannot wait for upcoming months," said CEO Ignacy Trzewiczek.
The 51st State: Master Set will be released first, in the 2nd quarter. Pre-orders will begin Monday, January 24th, with many surprises in store for fans during the pre-order period. Cry Havoc is scheduled to release at Gen Con and enter worldwide distribution in the 3rd quarter. First Martians: Adventures on the Red Planet will be released at Essen Spiel and will enter worldwide distribution also in the 4th quarter.
About Portal Games
Portal Games is a publisher of award-winning games such as Imperial Settlers, Stronghold, Tides of Time, Legacy, and Neuroshima Hex. Founded in Poland in 1999, Portal Games has developed into one of the most renowned European game publishers and design teams. Their commitment is to produce only the highest quality Board Games That Tell Stories.
https://brawlingbrothers.com/wp-content/uploads/2016/01/rpg-16.png
397
683
Brandon Nall
/wp-content/uploads/2015/04/logo-small.png
Brandon Nall
2016-01-27 11:58:00
2016-01-27 11:59:17
Portal Games announces exciting new titles for 2016