Stronghold Games Announces the Publication of the Village Line of Games
Licensed English Editions of My Village, Village, Village Inn, and Village Port coming in 2016
New Jersey, USA – November 18, 2015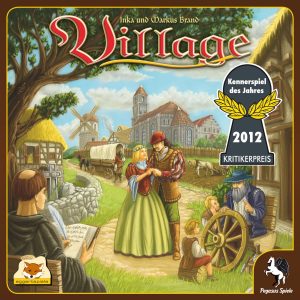 Stronghold Games is proud to announce the publication of the Village line of games, under license and co-published with the great German publisher, Eggert-spiele. The Village line of games currently includes Village, My Village, Village Inn, and Village Port.

Village, which is the original game in this line, was originally published in 2011. The innovative game play and rich theme quickly garnered Village numerous board game awards including the prestigious Kennerspiel des Jahres (2012), Games Magazine Best New Advanced Strategy Game (2013), Deutcher Spiele Preis Best Family/Adult Game (2012), as well as many other awards and nominations.

In Village, players take the reins of a family where the members become merchants, clergy, politicians, or travelers, all in search of fame and glory. Players spend time to perform actions. Since time will not stop for anyone, your people will pass on. Strategic time-management determines if your family will be immortalized in the village chronicles to bring honor and victory to your family.

My Village, a new standalone game in the line, was released at Essen 2015. Each player is in charge of their own village, controlling its entire fate. The popular themes, places, and characters of Village are joined by new elements like dice drafting, individual Grim Reaper figures, and rat invasions. My Village is a whole new experience with a similar game weight to Village.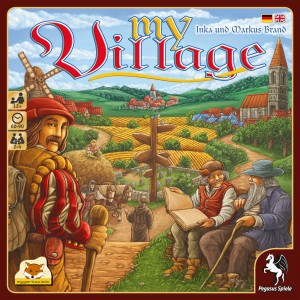 Village Inn is the first expansion to Village, adding two new buildings, the Brewery and the Inn. The Brewery is a new craft building where you can acquire a new good, beer. At the Inn, you meet influential people that have unique abilities. Village Inn includes all necessary components for a fifth player as well.

Village Port is the second expansion to Village, enabling players to travel the seas, trading goods and foreign commodities. Family members can become missionaries and dig for treasure on distant lands. Life goal cards are introduced, enabling your family to pursue careers such as writer, historian, or even knight.

The Village line of games was designed by the noted team of Inka and Markus Brand, who are responsible for many other great games, such as A Castle for All Seasons, La Boca, Murano, and others. The Village line also features the gorgeous artwork of the talented artist Dennis Lohausen, whose work has been featured in many games such as Terra Mystica, Dominion: Intrigue, The Voyages of Marco Polo, Hansa Teutonica, Fields of Arle, Glass Road, AquaSphere, Hawaii, Camel Up, and others.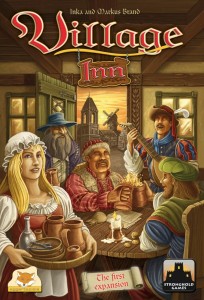 The release of the Village line of games strengthens the commitment of Stronghold Games to partner with publishers globally, bringing their very best games to North America and the rest of the world, as well as to continue to publish top-tier euro-game designs. The Village line of games follows the success of other major euro-games in 2015 from Stronghold Games, such as La Granja, The Golden Ages, 504, and Porta Nigra also with Eggert-spiele.

Stronghold Games will release Village and Village Inn for the GAMA Trade Show in March 2016. Stronghold Games will then release My Village and Village Port in time for the Origins Game Fair in May/June 2016. The Village line of games will be printed at Ludofact Germany, the leading printer of hobby games in the world.
https://brawlingbrothers.com/wp-content/uploads/2015/11/91So-KtWoOL._SL1500_.jpg
1500
1500
Brandon Nall
/wp-content/uploads/2015/04/logo-small.png
Brandon Nall
2015-11-18 10:52:58
2015-11-18 10:55:57
Stronghold Games Announces the Publication of the Village Line of Games